Events (1)
Current Events
---
San Juan Capistrano Ghost Walk visit event website
Begins 11 September 2021 08:00 pm
Runs through 23 October 2021 09:00 pm
As the sun sets on the walls of the ruins of the great stone church, the dead walk the streets of old San Juan Capistrano... Saturdays, Sept. 11 & 25, Oct 2-23, 2021 - 8 p.m. Meet behind Franciscan Plaza Parking Structure at end of Verdugo Street, San Juan Capistrano, CA From  "Haunted Orange County": "As the sun sets on the walls of the ruins of the great stone church, the dead walk the streets of old San Juan Capistrano. "Join us on our newest venture into the dark and the macabre through the historic streets of one of California's oldest cities. "Under the canopy of century old pepper trees hear the stories of the spirits that inhabit the old Los Rios district and make our way through the dimly lit Camino Capistrano to the outskirts of the Mission itself. "Tales of headless spirits, bandits and even a pirate attack will be shared and elegant restaurants with a dark past and restless spirits await you. "We end the tour outside the Mission near the church, where in 1812 a great earthquake struck, and forty-two parishioners were crushed under the falling stones, and at least one soul there is not at rest. "A dark, history filled tour that will be remembered forever in one of Southern California's oldest and most haunted locations. "*Face masks required on all tours until further notice**"
Available on select nights only. Upgrades for haunted jail cell "Spirits with Spirits" at El Adobe restaurant.
An additional $18 per person.
Includes 2 drinks with an intimate group in the former basement jail cell.
Choices include margaritas, beer, wine or soft drinks.
Limited to only 8 guests.
Must purchase ghost walk tickets first.
Capistrano Ghost Walk:
$24 per person
Daytime Ghost Walk with Capistrano Mission Entrance
: $34 per person
---
Circus Vargas at Laguna Hills Mall visit event website
Begins 17 September 2021 07:30 pm
Runs through 26 September 2021 07:30 pm
Circus Vargas' New 2021 production " Mr. V's Big Top Dream" is at Laguna Hills Mall from Friday September 17 2021 thru Sunday September 26 2021. Circus Vargas Features Acrobats Daredevils Flying trapeze Circus Vargas Best Health Practices Masks are Required For All Guests Circus Vargas Tickets Are Online Adult Tickets Adults are considered 12 and above VIP experience: $70.00-$60.00 Ringside Reserved: $55.00-$45.00 Arena Front : $48.00-$38.00 Arena Side : $38.00-$28.00 Back Arena: $28.00-$18.00 Discounted Tickets Kids 2 and Under are Free Children Tickets (Ages 3 thru 11): ($18.00 – $60.00) Senior ($23.00 – $65.00) Military ($23.00 – $65.00)
---
Octoberfest in OC and nearby visit event website
Begins 18 September 2021 12:00 pm
Runs through 31 October 2021 11:00 pm

Lake Arrowhead Oktoberfest
Sept 18 - Oct 30
WHERE » Lake Arrowhead Village, Highway 189, Lake Arrowhead
DETAILS» The festival takes place Saturdays and Sundays outdoors at Lake Arrowhead Village, a lakeside shopping center with an Alpine theme.
Entertainment includes German bands, dancing and children's games.
Beers include Franziskaner, Spaten and Stella Artois. Food includes bratwurst, knockwurst, sauerkraut, pretzels and German potatoes.
COVID-19 PRECAUTIONS »
The event announced on its website that it will follow any mandates imposed by local or state officials but will not impose its own.
TICKETS » Admission is free, but drinking requires the purchase of a starter package for $22. It includes a commemorative mug and a beer or wine ticket. After that, drinks are $8 each, according to the event website.
INFORMATION » lakearrowheadoktoberfest.com
Old World Village Oktoberfest
Sept. 19 - Oct. 31
WHERE» Old World Village, 7561 Center Ave., Huntington Beach DETAILS» This venue, which features a 10,000-squarefoot beer garden as well as a restaurant and German deli, will celebrate Oktoberfest on Wednesdays-Sundays with imported beers and German bands. Weeknights are family-friendly, but minors must be accompanied by a parent or guardian. Weekends are for adults 21 or older.
COVID-19 PRECAUTIONS »
Guests are asked to download their tickets in advance so the venue can staff according to attendance.
TICKETS» Admission is free Wednesdays and Thursdays, $10 Fridays-Sundays.
INFORMATION » 714-895-8020, oldworld.ws  
Phoenix Club in Anaheim
Oct. 1 - 24
WHERE » 1340 S. Sanderson Ave.
HOURS » 6 p.m.-midnight Fridays and 5 p.m.-midnight Saturdays for those 21 or older. Families are welcome noon-5 p.m. Sundays.
DETAILS» The Phoenix Club was founded in 1961 by German expatriates as a place to celebrate their culture. This year's Oktoberest will be its last in Anaheim, according to a Facebook post. The building the club has occupied since 1992 has been sold, and it intends to move to a different city in 2022.
This year's celebration will be held in the club's beer garden and a large tent. Entertainment will include Express Band and DJ Musikmeister, plus beer drinking and stein-holding contests.
COVID-19 PRECAUTIONS »
The event will be held under an outdoor canopy, and organizers will follow guidance from the Centers for Disease Control and Prevention.
TICKETS » $15 general, $25 for admission and $12 food voucher, $5 for ages 13-16 Sundays. Ticketing will be done online to control attendance as a pandemic precaution.
INFORMATION » 714-5634166, thephoenixclub.com 
Long Beach Oktoberfest
Oct. 22 - 31
WHERE » Scottish Rite Event and Cultural Center, 855 Elm Ave.
DETAILS » This inaugural event will take place in an 8,000-square-foot tent over two weekends. Fridays and Saturdays are for those 21 or older, but Sundays are family-friendly.
It will feature entertainment by Festmeister Hans und Die Sauerkrauts. Beers will include Paulaner and Hofbrau. Foods include bratwurst, sauerkraut, German potato salad and soft pretzels.
TICKETS » General admission is $20. VIP admission is $125 and includes parking, seats near the stage, food, beer, wine, dedicated servers and a souvenir stein.
INFORMATION » lboktoberfest.net 
Photo by Eric Reed
From OC Register
---
Free! 26th Annual Balboa Island Artwalk visit event website
Begins 26 September 2021 09:00 am
Runs through 26 September 2021 05:00 pm
Beautiful Outdoor Art Show on Balboa Island, California. Over mile of art & live music! The Balboa Island Artwalk is the premier showcase for talented local artists with art, music, sun & fun for the whole family! This fine art show along the South Bayfront Promenade features 100 artists  exhibiting paintings, fine jewelry, blown glass, sculpture, and photography. Admission is free. Spectators will enjoy live music throughout the day on five stages along the walk.
---
Free! Annual Sandcastle Contest, Newport Beach visit event website
Begins 26 September 2021 10:00 am
Runs through 26 September 2021 04:30 pm
One of the longest running beach traditions returns this September when the Commodores Club of the Newport Beach Chamber of Commerce hosts its 59th Annual Sandcastle Contest on Sunday, September 26, 2021 from 10 a.m. to 4:30 p.m. at Corona del Mar State Beach (Marguerite & Ocean Blvd., Corona del Mar). This year's theme is "Explore the World." Teams of sand sculpture aficionados ranging from children to professional architects will compete for various titles and prizes including Best Display of Theme, Most Humorous Creation and Commodores Award for Best Overall Creation. There's even a People's Choice Award. Sandcastle sculpting will take place from 10 a.m. to 2 p.m. with judging and viewing available until 4:30 pm.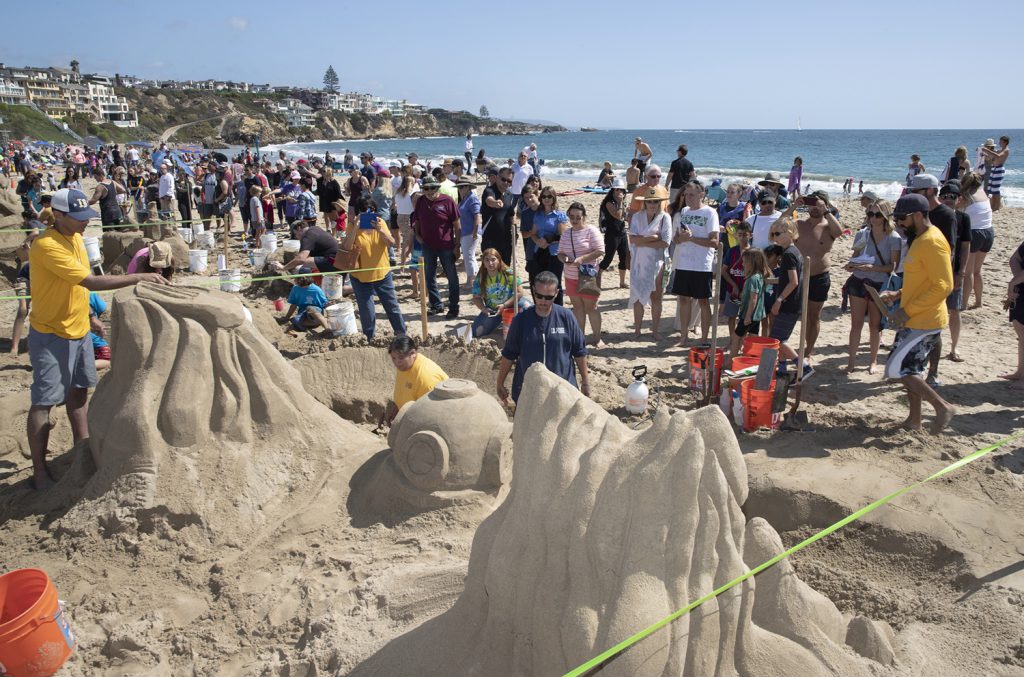 ---
Newport Beach Film Festival visit event website
Begins 21 October 2021 11:00 am
Runs through 28 October 2021 09:00 pm
First it was postponed, then cancelled, then it went digital. Now, the Newport Beach Film Festival has announced that it will return to a live format October 21-28, 2021. Normally, they used Regal Edwards Big Newport theaters for opening night film screening, followed by an afterparty at Fashion Island with dozens of restaurants serving food, cocktails featuring Tito's vodka, and live entertainment. Official 2021 program to be announced soon!
This page is also available in: Russian