Home
Russian Orange County and Long Beach
Russian Services, Events, Classifieds and Useful News.
Local Cultural Life and Attractions.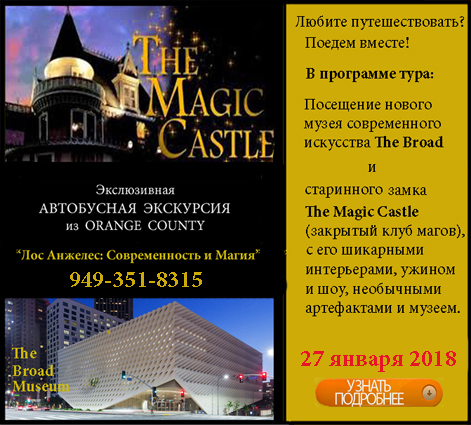 Website News:
Added in Russian Services (Home Services):
Aqua Service, Inc: Water Filtration & Plumbing Service in Orange County
Added in Russian Services (Beauty Services):
Manicure and pedicure services in Costa Mesa by Maria Maselko
Added in Russian Services (Travel):
OLANA Tours: Exclusive Bus Tours from Orange County
Christmas Event in The Slavic Church- December 17, 2018, 3 pm (Laguna Hills)
OLANA Tours invites you to an interesting Bus Tour to LA (from Costa Mesa)-register now!
Looking for help – long and short pants for 2-3 y.o. boy
Moscow Deli is hiring (Costa Mesa)
Advertise your service in The Annual Print Issue "Russian Orange Pages-2018"!
This page is also available in: Russian